Summit Aviation is proud to announce the groundbreaking of our new building site on the north side of the Bozeman Yellowstone International Airport, this Friday, April 14th at 10am.
Summit Aviation serves as the official training provider for Gallatin College- MSU's Aviation Program. The program has been incredibly successful, and with that success comes the need to expand. "We've made do and done our best with the space we've had for a long time, expanding to other buildings on the field as we continued to outgrow our current space", says Owner and President Ben Walton. "We've needed a bigger facility for a few years now and it's very exciting to see it coming together. We've had to spread out a bit to accommodate all the growth, but we're really looking forward to getting everyone back under one roof again."
Summit's new complex will boast 14,500 sq. ft. for office space and a Departure Lounge for private customers. The office space will house the company's award-winning flight school, aircraft sales personnel, charter department and aircraft management experts, as well as an FAA testing lab and Simulation lab for the flight school's multiple simulators, while the Departure Lounge will provide a luxurious space for private charter and management customers to come in and go out of. An additional 37,225 sq. ft. of hangar space will encompass two hangars, one of which will house the robust Flight School fleet, while the other will serve the company's Charter and Management fleet of jet aircraft when they are in base.
Slated to open in early January 2024, Summit Aviation is looking forward to the relocation. "Being on the North side of the field will be a lot more convenient, not just for our operations, but for overall airport operations as well," says Walton. The company's new location will provide quick access to the shorter runway used by the flight school, which will help to ease congestion on the main runway for commercial airline traffic.
The new building will also provide more space for continued community involvement. The company's annual Cancer Survivor Flight Camp held in conjunction with Eagle Mount Bozeman every year since 2014 brings young adult cancer survivors to the flight school for a week long flying adventure every summer. In addition to the annual Flight Camp, Summit has been involved in hosting several events and tours for the Boy Scouts, STEM programs, local schools and the Montana chapter of the 99's, an aviation group for women pilots, to name a few. After years of anticipation for the move, Summit Aviation is looking forward to spreading its wings once again.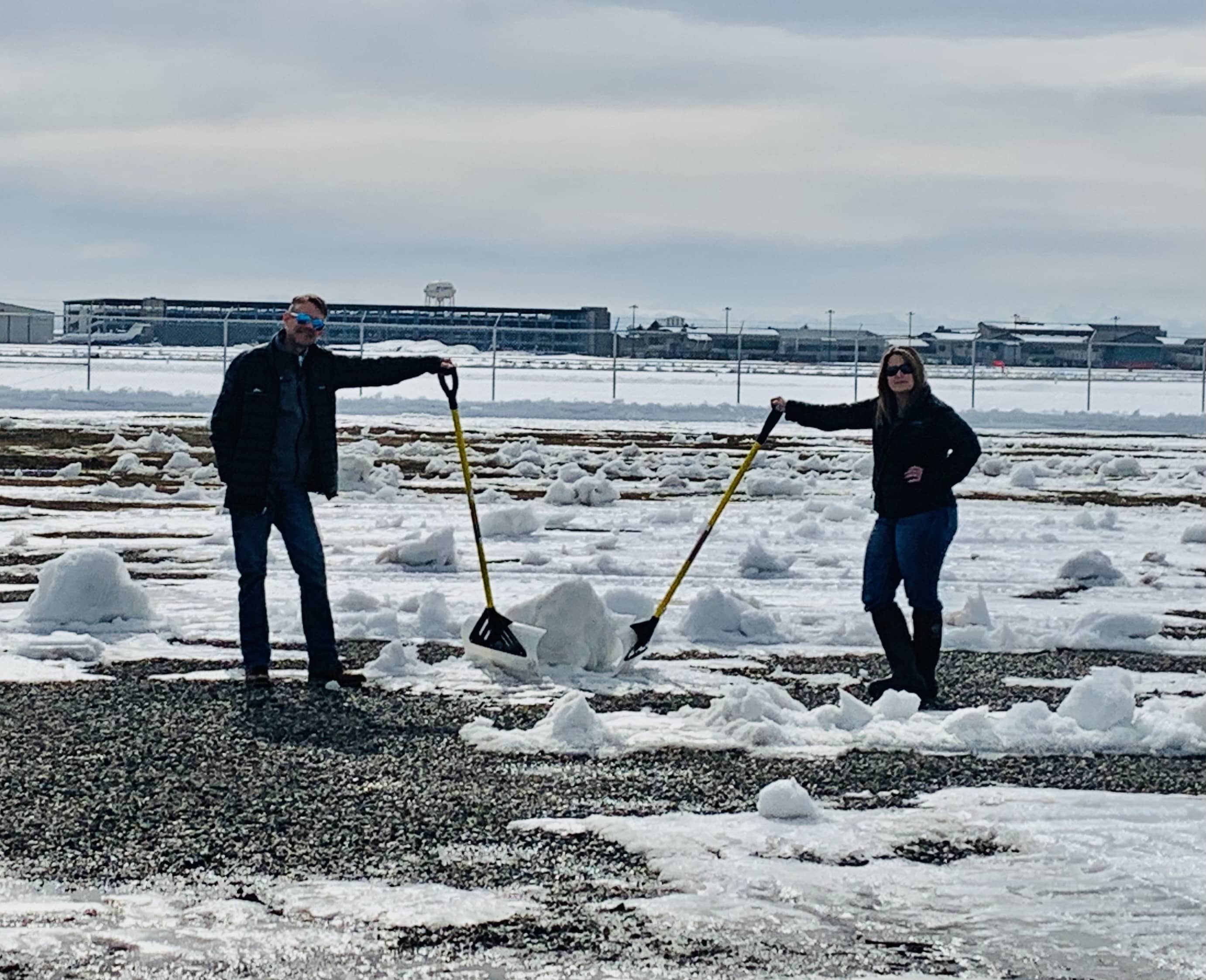 Summit Aviation President Ben Walton (left) and Executive VP Janine Schwahn (right) shovel snow at the new site during a staff-hosted "snowbreaking" ceremony last week as snow was cleared in preparation for Friday's official groundbreaking ceremony.