Aviation Degree
Gallatin College- MSU is as remarkable as its setting.
As part of a land-grant institution, it is a welcoming, adventurous community of students, faculty and staff that energizes individuals to discover and pursue their aspirations, and inspires people to improve the human prospect through excellence in education, research, creativity and civic responsibility.
Part of the MSU family is Gallatin College, an institution that specializes in two-year degree programs. Their Associate of Applied Science Degree in Aviation is the perfect 2-year program to get you expertly trained and into the workforce without the cost or the time required of a four-year school.
Why spend more time and money for the same pilot certificates?
Students seeking a 4-year Bachelor's Degree can take advantage of the Aviation + Business Program available through the partnership between Gallatin College- MSU and the Jake Jabs College of Business & Entrepreneurship.
This program allows you to pursue your love of aviation, and mix in the much desired business know-how with your choice of marketing, finance, accounting or management.
Who said you had to choose?
Student Focused
You're An Individual - Shouldn't Your Training Be Individualized?
Summit Aviation is the exclusive flight training partner for the Gallatin College- MSU Aviation Degree program. Imagine an education where you not only know your instructor's name, but have their personal cell number, and the Chief Instructor's too! That is Summit Aviation.
Voted one of the best flight schools in the country by AOPA, our quality ground and flight instruction are unmatched in the industry. The training aircraft offered by Summit Aviation were painstakingly researched to bring you the best aircraft equipment, offering an incredible advantage in career progression. We are student-focused and driven to make you a confident pilot and ensure you have all the tools necessary to succeed in your aviation career.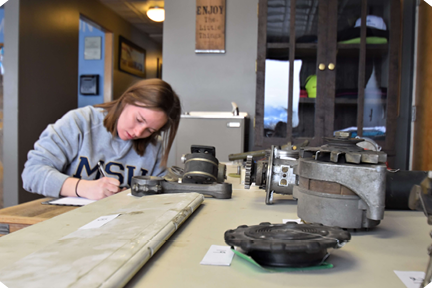 If you want a comprehensive, accessible, responsive, student-centered learning environment that facilitates and supports the achievement of your professional and personal aviation goals, then Gallatin College- MSU and Summit Aviation are where you belong!
Aviation Program Description
When you complete the Associate of Applied Science in Aviation, you will have all the credentials required to pursue a career as a professional pilot.
The program offers in-depth training in all stages of pilot certification: Private Pilot, Instrument Rating, and Commercial Pilot. The program also offers classroom training in Aircraft Systems, Advanced Navigation Systems, Aviation Safety, Flight Instructor/ Aircraft Theory, and Aviation Regulations and Professional Conduct.
Graduates are prepared to:
Apply knowledge in aviation to adapt to emerging aviation trends.

Describe meteorology as it relates to aviation.

Conduct themselves professionally and ethically.

Independently fly and safely operate airplanes for which they are rated.

Demonstrate proficiency in math computation for aviation and modern society.

Communicate effectively using both written and verbal skills.

Demonstrate effective skills in the use of computers and aviation related technology.

Understand and analyze the role of aviation safety and human factors to the aviation industry.

Demonstrate an understanding and the appropriate application of aeronautical principles, design characteristics, and operational limitations, for a variety of aircraft as it relates to the student's career goals.
Requirements
Completion of the Associate in Applied Science in Aviation requires that students contract with Summit Aviation to complete flight training leading to their Private pilot, Commercial pilot, and Instrument ratings. Complete course description and outline can be found on the Gallatin College MSU website.
A student enrolled in the Aviation Science Technology Program must obtain at least a Class II medical certificate before his or her first training flight.
*FAA medical certificates are issued by FAA designated Aviation Medical Examiners (AMEs), and are required by all pilots who operate aircraft. The names, addresses and phone numbers of AMEs in your area may be found at the FAA website or you may contact the Gallatin College Director of Aviation for more information.
Lightspeed Affiliate
Summit Aviation is proud to partner with Lightspeed to offer you high quality pilot products.

What can we do for you?
Feel free to contact us with any questions you have.
We're happy to help!